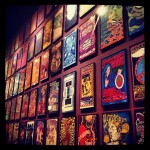 If you happen to be seeing a concert at the historic Fillmore in San Francisco, be sure to take a moment to examine the tiled array of legendary poster art adorning the walls. Traditionally, on the nights of sold-out shows, attendees receive…
Symbiosis Solar Eclipse Gathering Pyramid Lake, Nevada 17 – 21 May 2012 Symbiosis Solar Eclipse Gathering : www.PyramidEclipse.com Symbiosis Events : www.SymbiosisEvents.com Poster design by Jen Zariat.
Fourth Annual Symbiosis Gathering 17 – 21 September 2009 Yosemite, California Symbiosis Gathering : www.SymbiosisGathering.com Graphic design by Jen Zariat.